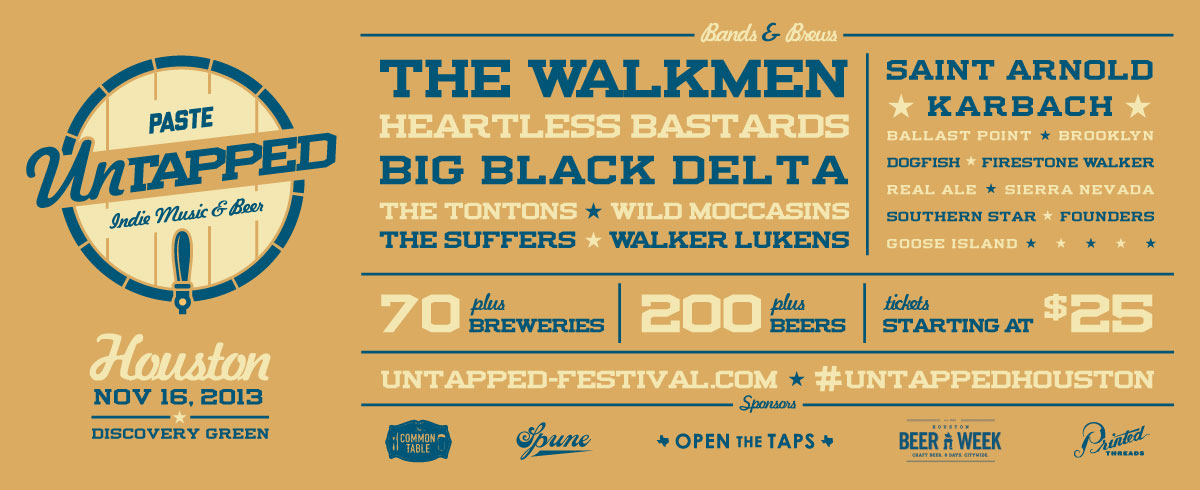 The Untapped Festival is coming to Houston!  Houston Beer Week is very happy to be working with the producers of Paste Untapped,  who have built an incredible craft beer/indie music festival.
The Untapped Festival will take place at Discovery Green on Saturday, November 16th to close out Houston Beer Week.  Tickets come in VIP and General Admission.  For constantly updated info on the massive lineup of bands and breweries that will be in attendance, visit their website.
The Untapped Festival will be taking the spot of previous festivals, Monsters of Beer/The Draft, in the Houston Beer Week lineup.  However, the Untapped Festival has graciously agreed to continue our efforts at charitable fundraising by pledging to support Live It BIG with part of the proceeds from the event.
In fact, if YOU would like to help in that effort, we would love to recruit you as one of our volunteers.  Each volunteer from our group who agrees to work a shift at the Untapped Festival will result in money being donated to Live It BIG.
Thanks, and enjoy the party!