Houston Beer Week Happenings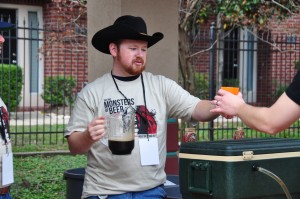 Well kids, it's that time of year again!  Time for Houston Beer Week to kick off it's 4th year!  We are really excited this year and want you to join us.  Like last year, we are forming a committee of like-minded craft beer lovers to join in the fun and to help get Houston Beer Week organized.
It isn't hard work.  Essentially, we have pared down the tasks to make it really easy this year.  We are organizing the Committee into teams based upon sections of the greater Houston area — so Montrose, Katy, Sugar Land, Heights, etc.  Each Team will reach out to the bars, restaurants and retail establishments in that area to make them aware of Houston Beer Week, encourage the establishments to create events for beer week, and to assist getting those events on the Houston Beer Week calendar.  Pretty dang simple.
Oh, and our meetings all have beer.  What could be better?  Dues are pretty small — $20 for the year.  If you are interested, visit this signup site get registered. http://www.showclix.com/event/3774464   We just held our first meeting, so you haven't missed much and beer week is coming, so the best is yet to come.   Hope you will join us!
All the best,
Houston Beer Week Committee