Hello, all!
First of all, in case you haven't marked your calendars yet, Houston Beer Week will fall on November 9-16 this year. Help us spread the word!  As always, the week will be filled with a variety of craft beer-related events all over the city.  We will be opening the calendar for submissions sometime in September.  Additionally, like last year, we will have a Houston Beer Week Committee that will assist with the management and outreach of Houston Beer Week.  Members from last year will be notified when it opens for membership this year by the end of July, and the Committee will open for new members on August 5th.  So, if you were a HBW Committee member last year, look out for an email in the coming weeks.  If not, but you are interested in joining our merry band of beer geeks, come back on August 5th and join the team.  Dues remain the same — $20 and will get you access to our beer-centric meetings, an opportunity to purchase a HBW Committee shirt and represent our crew during beer week.
In addition, we'd like to announce a couple of changes for 2013.  The rumors you've heard are true, we've chosen not to hold The Draft this year (formerly Monsters of Beer).  However, we are excited to announce that the Untapped Festival is coming to Houston in November.  If you're unfamiliar with Untapped, it's a craft beer/indie music festival.  It has been extremely successful in Dallas and Fort Worth, and we're happy to see it here in Houston.  The festival organizers will be donating a percentage of the proceeds to Live It Big, benefiting Friday Harbour and Stepping Stones Charter School.  The venue and date have not been set in stone yet, but you can follow @untappedfest on Twitter and Facebook for new details.  They will be accepting volunteers for the festival soon, and we'll be hitting up the HBWC members to help out!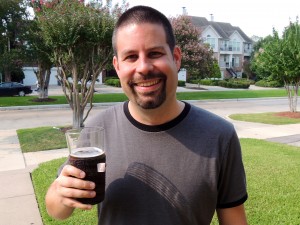 Also, we'd like to announce Kevin Healy as our new Executive Captain for 2013.  Kevin was a member of the Houston Beer Week Committee last year, and we believe he has a lot to bring to the management and expansion of HBW.  Kevin has a background in technical computer stuff.  He has raised funds for the Leukemia and Lymphoma Society by cycling 100 miles last month and raising over $4,200 for the charity.   He also really likes craft beer, and that's really important.
We're super excited to have Kevin in this new leadership role for HBW, so give him a good welcome!
Jay and Cathy