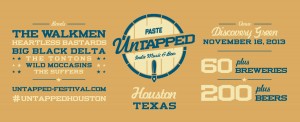 Hello fellow beer lovers.  You may have heard that the Untapped Festival is heading to Houston.  Yes, indeed!  We are very happy to be working alongside our friends who produce and manage this terrific event.  In fact, we were so happy about it, that we decided to have the Untapped Festival take the anchor spot for the final day of Houston Beer Week, and retire The Draft Festival.  Though that decision was not made lightly, we believe this is the best move for Houston Beer Week's long-term health and sanity.  (well, the organizers' anyway)  And the wonderful folks at Untapped Festival are also big believers in charitable works, so they graciously agreed to take on our pet charity, Live It BIG, and help raise funds at the festival for this wonderful group.  We think this is just grand!
The Untapped Festival will take place on Saturday, November 16th at Discovery Green park in downtown Houston.  They have a huge line up of bands, and will be hosting more than 60 breweries, so there will be PLENTY of things on hand to keep you happily entertained.  For more information regarding the bands, the beers, and ticket information, visit their website at www.untapped-festival.com.
AND, if you'd like to help us help Untapped Festival raise money for Live IT BIG (a non-profit 501c3 organization that helps raise money for cancer patients and underprivileged children), then volunteer through us!  YES!  If you volunteer via the Houston Beer Week team, we get money for Live It BIG and you get in for free.  Sweet deal, no?  Just sign up here:  http://www.showclix.com/event/3783881/pre-sale .  Even though this is a ticket site, there isn't a cost to volunteer.  We will accept volunteers until November 9th, then we will give the list to Untapped and they will take it from there!  Hope you can join us and help us raise money for charity!